When Disney announced at San Diego Comic Con this year that Tower of Terror in Disney's California Adventure park would receive a Marvel make-over to become Guardians of the Galaxy – Mission: BREAKOUT! I'm sure they will have expected a fair amount of toxic fall-out. But perhaps not so much that even the LA Times covered the 'fan freak-out on social media' and an angry petition against it was able to gather over 15 000 signatures. For those who call Anaheim their home resort, this is undoubtedly a loss for many (and a gain for many Marvel fans no doubt) and I share in the annoyance which I've seen on Twitter. However, I have also seen worry from people like myself who call Disneyland Paris their home resort. Many are concerned that Tower of Terror in the Parisian Walt Disney Studios Park may be at risk of a similar fate. I do not believe this is the case and I would bet my kidneys on that we won't be seeing any similar changes to Paris' Tower of Terror any time soon. That is primarily because California and Paris are in two very different situations.
Perhaps the most major difference between Disney's California Adventure and the Walt Disney Studios Park is that of potential expansion space. The Walt Disney Studios Park has loads of it; Disney's California Adventure has none of it. On a very simple level, this means that if Disney want to incorporate a large brand into said theme park, they have far more options in Paris than in California. In California, something was going to have to be made a sacrifice. Moreover, 'E-ticket attractions' like Guardians of the Galaxy – Mission: BREAKOUT! need a lot of space. The current Tower of Terror is identical to it's French cousin and has already been designed to be more compact than the original from Disney's Hollywood Studios in Walt Disney World Resort. For an immediate and large scale Marvel presence, you couldn't just knock down a dark ride like The Little Mermaid because you simply wouldn't find enough space. Instead, a whole area of the park would probably need to take demolition, which inevitably takes a lot away from a theme park. Refitting Tower of Terror only comes at the numerical cost of one attraction; 1 E-ticket attraction : 1 E-ticket attraction. On paper you can see why that seems a tempting option. In contrast, to find expansion space in the Walt Disney Studios Park in Paris, you only need to look beyond the tarmac of Studio Tram Tour.
So California didn't really have any space to create a new attraction without removing an existing one. However, we know both parks are a little limited on funds at the moment. Disneyland Resort is directly owned by the Walt Disney Company which has just built the over-budget Shanghai Disneyland and has invested a lot in two new Star Wars lands and other major theme parks expansions, meanwhile Disneyland Paris is technically owned by the Euro Disney Company (~ 60% owned by TWDC) and it's no secret at all that the French resort has barely made any money since opening. It is thus understandable that the Disneyland Resort may wish to opt for the cheaper option of a make-over to an existing attraction in order to get a Marvel presence in the resort, and potentially if Disneyland Paris also desired this, they may want to follow the same strategy. The difference is that Disneyland Resort had no great candidates for a major Marvel re-imaging, whereas The Walt Disney Studios Park does: Backlot.
Currently Backlot is stuck with the old 'backstage/behind the scenes' theme which the Walt Disney Studios Park is moving away from – towards being in the movie magic instead, such as with Toy Story Playland or la Place de Remy. And it doesn't take a genius to notice that Backlot is not very attractive at all. The facade for Rock 'N' Roller Coaster is nothing short of an absolute joke: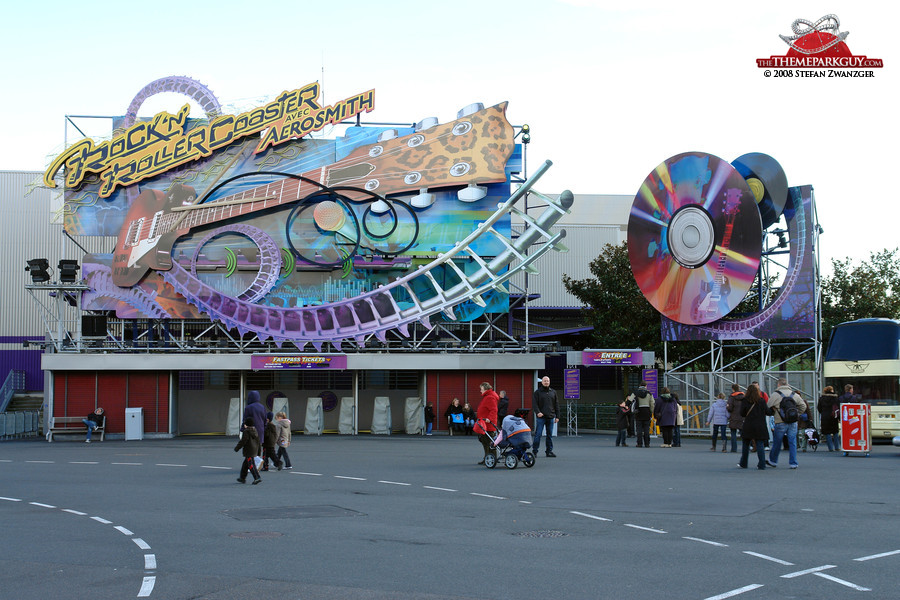 Backlot is clearly not a popular part of the park either. The Rock 'N' Roller Coasters in Paris and Orlando are identical in all but some slight styling, and yet the version in Florida consistently has waiting times of over an hour whilst this ugly monstrosity in Paris often doesn't even manage twenty minute queues. For a major rollercoaster! On a similar theme, Armageddon barely attracts a ten minute wait, and although Lights Motors Action! is still popular, it is also the same age as the park itself. Animagique was a show as old as the park, but we don't have that any more! Thus, the Walt Disney Studios Park has an area of the park which is crying out for a make-over and which no one will really miss if it changes completely. (It is also quite likely given that rumours suggest Disney want/wanted to build a Marvel version of Rock 'N' Roller Coaster in DCA, so plans could simply be emailed across the Atlantic!)
Something else which needs serious consideration is the respective position within the parks of the Tower of Terror attractions. The addition of Tower of Terror to Disney's California Adventure was last-minute to begin with, being added because the park needed an E-ticket attraction and the designs for the attraction in it's smaller-than-Florida version had already been drawn up for Paris and not used due to budgetary constraints. In Paris, the Hollywood Tower Hotel was always meant to be the major weenie of the park when it opened in 2002. It was only because the attraction was so expensive and Disneyland Paris had such little money that the project didn't receive the green light until 2005. Between 2002 and 2005 a large grassy area could be found in the Walt Disney Studios Parks where the Hollywood Tower Hotel was always designed to be. Disney's California Adventure may have just spent $1bn on making all of its themes more coherent, including adapting the area in which Tower of Terror is situated in order to make everything look right, but this is not quite the same as how fundamental Tower of Terror is to the Walt Disney Studios Park. In Paris, Tower of Terror was designed from the start to match the art-deco, golden-age of Hollywood style of Studio One, and when the attraction was built it was accompanied by a makeover to the whole area between Studio One and Studio Tram Tour in order to amplify this original theme. Sure in California they would need to spend more money to make the area around the attraction suit the new Marvel theme, but the overall essence of Disney's California Adventure will remain intact. The same would not be able to be said about the Walt Disney Studios Park.
Tower of Terror at Disneyland Paris is perfectly safe. It might get some Star Wars themed projections on it soon if rumours about a Season of the Force are accurate, but that's really just a side note, the important thing is that the attraction certainly isn't going anywhere. On a personal level I've never really gotten into Marvel, so I'm not chuffed about this make-over news, but at least the Floridian version and the Parisian version (which is identical to the Californian) will live on. Even if you have to get on a plane, the experience is not totally lost to the world! The bigger issue at stake might be that of Imagineering cutting corners. No matter how well you try and re-theme something, if it was initially designed with something else in mind, it probably won't be perfect. And also, that name… 'Guardians of the Galaxy – Mission: BREAKOUT!' – it even sounds like a series of afterthoughts. But hey, Imagineering have seriously impressed everyone recently with Shanghai Disneyland and even the Frozen replacement for Maelstrom in Epcot, so I'm sure they'll wow us again. In fact, the replacement of Maelstrom is a case-in-point: everyone was up in arms about how it was destroying Disney legacy by putting franchises into the real-life park, and then once the attraction opened everyone loved it. I would expect the same to happen here.
Make sure you join us on social media for more chat and debate:
Facebook / Instagram / Twitter: @MagicalDLP & @SIMCITYWEST (Author)